MS Social Work Navigator Program
MS Views and News Navigator Program
Helpline (888) 871-1664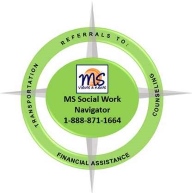 Reach out and contact with our 'MS Social Work Navigator program'
The service is free of charge to the MS community and can connect you to MS support groups, drug assistance programs, financial resources, education, information, counseling, transportation and much more. See listing of services showing below
Call 1-888-871-1664 to connect to an MS Social Work Navigator Professional.
Call to speak with Jennifer Falk, MSW, CPHM
The goal of this program is to ensure that all affected by MS will have access and connections to needed and available community resources. The MS Social Work Navigator can help you make those connections and provide referrals and guidance on how to access needed community resources.
Social Work Services include:
Guidance & assistance-with applications for services
Patient education
Patient advocacy
Assistance in facilitating effective physician/patient communication
Resource connections to prescription assistance programs
Social Security /Health Insurance issues & Information
Assistance with Employment issues
Home Safety information
Referrals and connections:
Individual, family and marital counseling
Local support groups
Attorneys specializing in Disability law & ADA laws
Advocacy groups
Mental health counselors
Physical therapy
Occupational therapy
Local exercise and Adaptive exercise groups
This free service is provided with generous donor financial support and corporate sponsorships.
If you would like to donate, please contact us directly or visit: www.donations.msviewsandnews.org